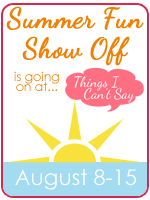 Have I mentioned lately that Shell (Things I Can't Say) has the best link ups? I've known about this one for weeks but almost missed it due to my self-imposed blog hiatus. Busy is good, but not always.
But here are a few summer fun pics, and a good reason why I haven't not been blogging…it's been sunny and I've been playing (and also working but let's focus on the playing)!
How's your summer been? Show it off! Link up your Summer Fun at Things I Can't Say for a chance to win prizes from Ubisoft.