Fussypants loves to dress up, he even thinks we should all wear costumes on our birthday. He has already decided what he is going to be on his birthday (and it's not until January).
He also loves to pose for all pictures.
Little Miss, on the other hand, wasn't that thrilled with her costume. She enjoyed trick o'treating, but flipped out whenever she saw the camera.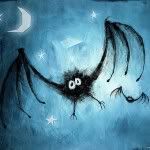 Written for By Word of Mouth Blogging Howlerfic Halloween link-up